My Coffeemaker Died This Morning
Not that it's the end of the world, but my coffeemaker morphed into a mess-maker this morning. Seems my
Black & Decker Brew & Go coffee maker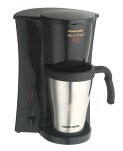 brewed ... and WENT.
So instead of drip, drip, dripping its coffee right into my mug (as it's routinely done for months and months) it just bubbled, gurgled, snorted, and oozed its muddy-wet coffee grounds all over my kitchen counter! Of course I didn't have enough paper towel - or napkins - to mop it all up, so it continued flowing right off the edge of the counter and onto the kitchen floor.
Kersplash!
In bending down to mop up the mess, I banged my head on the edge of a drawer that I guess I hadn't closed all the way. Then, as I tried in vain to sop up the gathering pool of piping hot coffee with too few sheets of (now soggy) paper towel, I burned my fingers.
What a fiasco!
So I wonder what lesson this was all trying to teach me. Vernon Sanders Law states:
"Experience is a hard teacher because she gives the test first, the lesson afterwards."
Got that right. Hmmm. I'm still not sure, but maybe I'll make myself a cup of coffee and try and figure this thing out.
Oh wait, I can't!!!
Labels: Just for Fun